Residence Certificate in Thailand
A Residence Certificate is an official document that certifies your residence / address. In Thailand there are quite a few occasions where a foreigner will be required to obtain a Residence Certificate. For example when…
Buying or selling a motorbike or car
Obtaining or extending a Thai Driving License
If you obtain or extend the car AND motorbike license, you will need 2 Residence Certificates.
Opening a Thai Bank account
Obtaining a Thai Tax ID Number (TIN)
Applying for a Yellow Tabian Baan (Yellow House Book)
etc
Most embassies also issue Residence Certificates to their citizens but requirements, fees etc vary. In this post we will only cover the Residence Certificate from the Immigration Bureau.
In Hua Hin, Prachuap Khiri Khan province, you would have to go to the main Immigration Office in order to obtain a Residence Certificate as the Bluport Shopping Mall branch does not issue this document.
Required Documents
You will need to prepare the following documents below (other immigration offices might have different requirements). In case you don't have all required copies or did not bring passport photos, there is a copy shop right next door.
Application form (will be handed out for free)
Original Passport
Copy of your visa (if applicable), your most recent entry stamp, your current extension of stay stamp
2 Passport Photos
Proof of your address which can be a rental contract, your latest 90 day report, house documents in case you are the owner, a TM30 receipt etc
In order to receive the Residence Certificate at Immigration Hua Hin immediately, you will have to pay a fee of 500 THB per document.
Sample Residence Certificate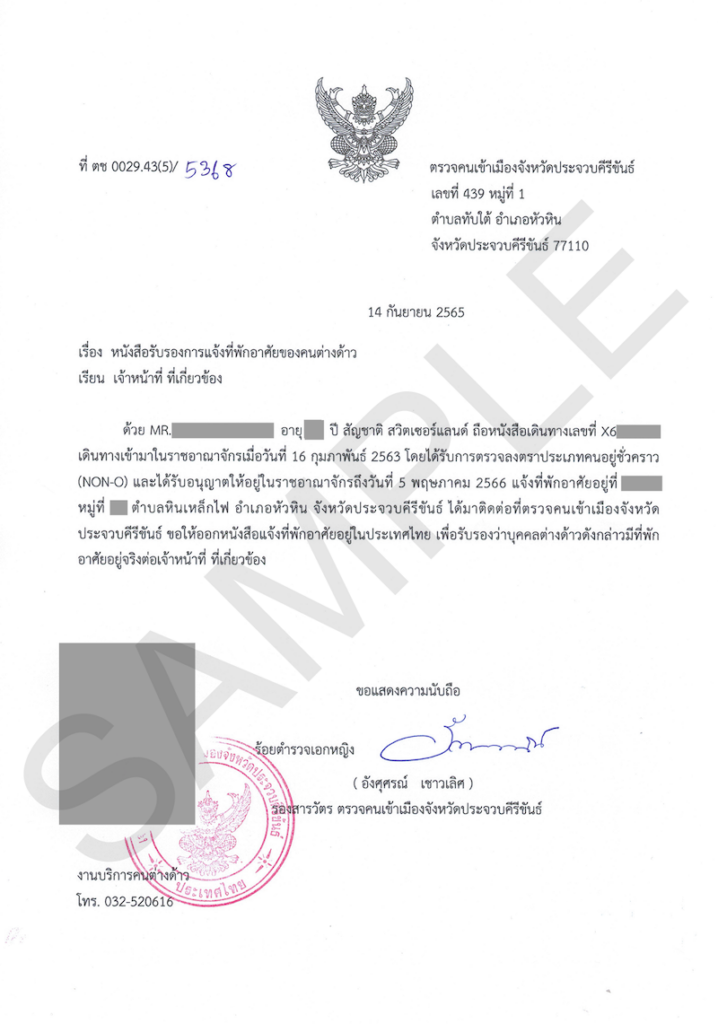 If you have questions about obtaining the Residence Certificate in Hua Hin or issues while doing so, please do not hesitate to contact us. In case you need to use it abroad, we offer translation to English and German language.